Mures County Museum, Tirgu Mures / Marosvásárhely, Transylvania, Romania
Sandor Szasz Studio is pleased to announce the forthcoming solo exhibition opening of "Systems & Cloud Forest at Mures County Museum in Tirgu Mures on Friday 20th of August 2021.
This presentation of works is somewhat an emotional one for the artist and homecoming of sort. With his immediate family, extended relatives and friends in the city. It is also of great significiance as the events, stories and landscape of the region has greatly influence huge aspects of his artistic practice, no to mention inner struggle of perceiption of self and identity.
In preparing, curating through to the staging of this rather emotional showcase, each step has provided Szazs an opportunity for reflection and recalibration. Being in region (space) with several works that the artist has not directly engaged with in a while, has in itself presented several poignant moments, adjusted reality and a new perpective.
"Systems & Cloud Forests" consist of number of paintings, collages and sombre, yet powerful installation – reminder of human nature and the actions that spring from it.
The exhibition is expected to remain on view until the 09 September 2021.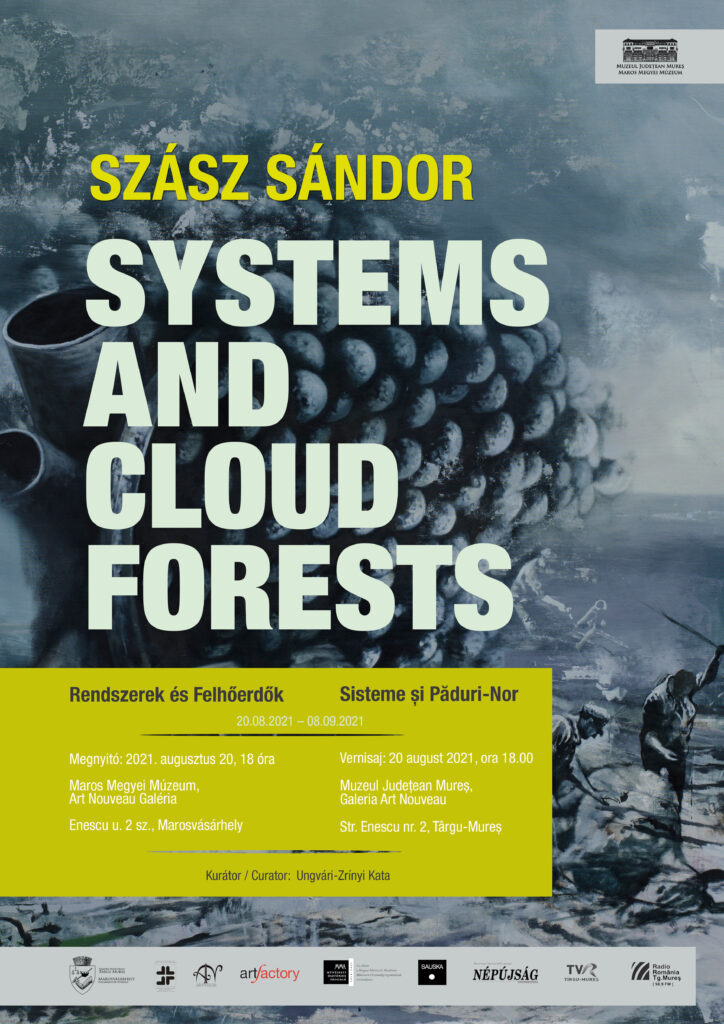 About the Mures County Museum, Tirgu Mures
Mures County Museum is one of the oldest Museums and was founded by Aurel Filimon. The County Museum includes the following divisions: Archeology-History, Arts, Nature Sciences, Ethnography and Popular Art.
The Art Museum came into existence in 1913, being known at that time as the Municipal Gallery of Art. It's collection includes works by some of the most distinguished names in Romanian and the Hungarian fine arts.
Address: Mures County Museum, Art Nouveau Gallery, Strada George Enescu, 2 , Tirgu Mures, 540052, Transylvania, Romania
Opening Times: 09:00 – 16:00 Hrs (Monday – Friday), 09:00 – 14:00 (Saturday), 09:00 – 13:00 (Sunday)
Admission: Free
For more information about this exhibition or arrange special tour please Sandor Szasz Studio at contact@sandorszaszstudion.com